Welcome!
Through the OKLMS Learning Management System, the Aging Services division of Oklahoma Human Services hosts online training courses for providers and administrators of Adult Care programs like Medicaid SPPC (State Plan Personal Care) and ADvantage (waivers for Home- and Community-Based Services).
First Things First
If you've never accessed OKLMS before, your first step is to create a new account for yourself. As an Adult Care/SPPC/ADvantage learner, when you reach the Other Fields section of the New Account signup page:
Choose Advantage from the Type of Training dropdown menu.


The system will then ask you to provide the following information:
Job Title
County
Care Provider name (you can choose up to three if you work for multiple providers)
Harmony number
Once you submit your details, you'll still need check your email to confirm your account before you can start taking courses.
Not your first time? Look up your existing account or reset your password, if needed
Log In and Get Started
After you create and confirm your new account:
Log in with your username and password at https://oklms.org.
The system will open to your dashboard, which displays the available Course Categories.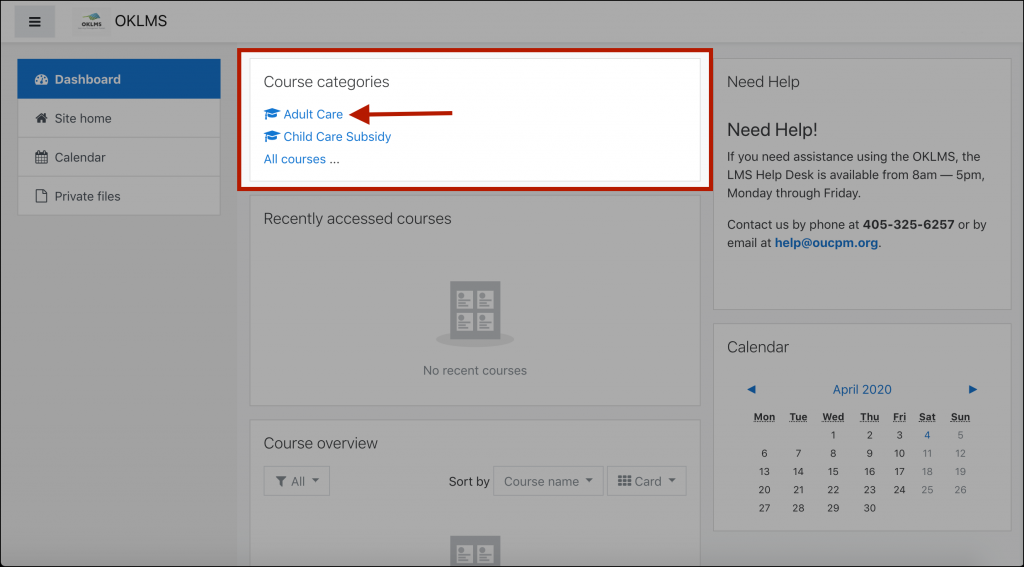 (If you've already been enrolled in courses, they'll be displayed here instead, under My Courses. Click a course name to open it or select All courses… to view the course categories.)
Click Adult Care.
Enroll yourself in the course you need.
Now you're ready to begin learning!